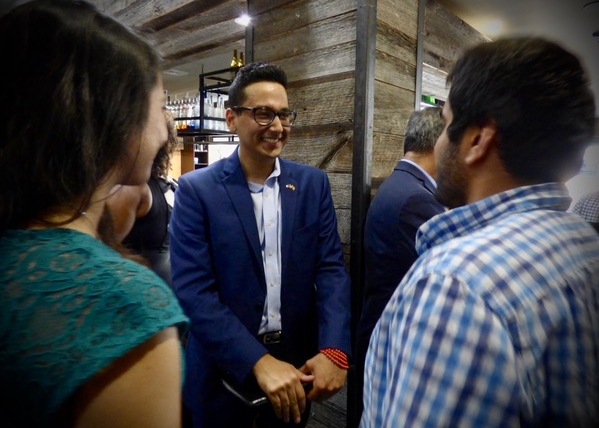 "I believe that you can't create good policy unless you really engage with people. Because the reality is that as members of our community, we can make deliberate choices to excel, but we also need our county representatives to make deliberate choices that empower us to excel." - Ashwani Jain
High Quality Education for All
Gun violence is a community health epidemic. Fixing it will take all of us working together. If elected as an At-Large County Councilmember, I will:
Create a citizen oversight committee that will make recommendations on school safety,

Commission a study on gun violence to determine its effect on our families,

And work with our Board of Education to fully fund measures to keep our kids safe.
I will always be a partner with our students, parents, and educators so they feel engaged and empowered.
I'm a proud product of Montgomery County's public schools.
I strongly believe that education is the surest pathway out of poverty. But as someone who has lived in four of the five council districts - on the east and west parts of our county, as well as up and down county - I have seen how our education systems are not equally prioritized.
So I want to make our schools even better by closing the opportunity gap that our students are facing.
This includes making universal pre-K a reality for all our children, helping to create a more comprehensive curriculum that ensures students have access to STEM education as early as kindergarten, ensuring teachers and paraeducators have a stronger voice in our operational decisions, increasing food security by streamlining the application process, and creating more language immersion programs to break down barriers to access.
Regardless of where you live in the county, you should have access to the same opportunities.
Inclusive & Safe Communities
I'm a first generation American.
When talented immigrant children have grown up in and become part of our community, have earned their high school diplomas, have clean records and want nothing more than to stay united with their family, we must embrace them. These are our values.
So I want to ensure we're creating policies that foster greater trust between local law enforcement and immigrant communities. And while we unofficially operate as a sanctuary county, we need the political will to finally declare it as such.
To those who feel marginalized for their race, religion, sexual orientation or gender identity, I want to assure you that you are welcome in Montgomery County.
Small Businesses and Greater Economic Security for Families
I was born in Rockville and grew up in Wheaton, Gaithersburg, Silver Spring and Potomac. I never left Montgomery County because it's home to my American Dream.
I believe the role of government is to ensure equality of opportunity by investing in its citizens. My family immigrated to this country with limited resources. My grandfather was a school janitor. My mother is a product of community college and worked for minimum wage. And my father struggled to start his own business in an outdoor flea market right here in Montgomery County. I'm glad to say that today, my parents are successful small business owners.
I understand the unique challenges our small and minority-owned businesses face:
Lack of capital to start or expand

Duplication of permitting process between state and local governments

Attracting new customers and the fear of losing existing customers when needed development displaces them
To support our local businesses and invest in the future of county, we must:
Thoughtfully create "Enterprise Zones" throughout the county that encourage businesses of all sizes to make their home or expand here

Streamline the permitting process to prevent dual processes between the state and local government

Encourage the use of vacant office space to create more co-working and shared working spaces
I've seen first-hand the value of hard work and having a reliable partner in government. But we must ensure our government continues to invest in our residents.
I support smart growth that favors mixed-use development and creates inclusive communities with access to affordable housing (via increasing MPDUs, increasing the % dedicated to HIF, expanding rent control, and supporting "Just Cause" protections), transit, education and employment opportunities. This ensures that we expand our economic tax base without pricing anyone out of our cities.
We also need more job training and career development programs, which will diversify our workforce, help businesses find the workers they need, and provide more career and professional development opportunities for our young people.
Efficient & Effective Transit
Access to transit is good for people, the environment, business, and the economy.
I support a comprehensive transit and road infrastructure plan that reduces traffic congestion, pollution, and provides greater accessibility and connectivity for residents all around our county. This will also connect people to jobs (thus fostering greater economic security) and connect businesses to their employees (thus helping our local economy).
This means understanding the needs of residents in DownCounty -- so I support the Purple Line, BRT and creating more protected bike lanes and sidewalks.
It also means understanding the needs of residents in UpCounty -- so I support expanding I-270 IF it also includes transit options, investing in the CCT, as well as a limited expansion of roadways - like M-83. We must also add designated BRT lanes to M-83 when appropriate.
As a councilmember, I would be committed to doing everything I can to reduce the negative impacts of climate change.
Prior to working in President Obama's White House, I served as the Special Assistant for the Climate Action Campaign. In this role, I helped build and activate partnerships with a wide range of constituency leaders to generate earned media coverage that promoted the Obama Administration's efforts to combat climate change.
If elected, I would focus on --
1) REDUCE GREENHOUSE GASES : I believe we must increase the rate of progress to reduce greenhouse gases in the county. The Council has made great strides - the 2017 divestment resolution, the purchase of the County's first electric buses, the establishment of the Montgomery County Green Bank. I would continue to encourage such actions.
2) SMART GROWTH : I support smart growth centered around transit centers. I support bikeway access to all Metro and Purple Line stations, as well as an overall bicycle master plan. This includes designated bike lanes, sidewalks, and more crosswalks, especially in high traffic areas, near schools, and near public recreation facilities.
3) INVEST IN THE BRT : I believe we must increase resources for programs that support the BRT, as I am an advocate for its expansion (Rockville Pike, New Hampshire Ave, Georgia Ave). I believe expanding the BRT will reduce congestion and pollution, while making our communities more accessible, particularly for our residents without cars. By making our communities more accessible, I believe the BRT network will also promote economic growth by connecting MoCo residents to more employment opportunities, while promoting a transportation infrastructure that will attract more employers to our county.
4) BAN USE OF UNNECESSARY PESTICIDES : As a 15 year survivor of childhood cancer, I support banning the use of unnecessary and cosmetic pesticides in the county on public as well as non-agricultural land. I was very encouraged to see the Council do so in 2015. The striking down of the law earlier this year by Judge Terrance McGann is troubling, though I am heartened by the current Council's decision to appeal his ruling - a decision I will continue to support if I am elected.
5) EXPANDING THE LEGION BRIDGE : This will help us alleviate some of our traffic concerns in the area, while also protecting our county's 90,000 agricultural reserves. These reserves protect our rural communities, our farms, and our public water supply, while also providing greater access to green open spaces.
There are talks about creating a new bridge. I do NOT believe we should create a second bridge crossing. Instead, I believe we can look at expanding the Legion Bridge - with an emphasis on creating more designated lanes exclusively for BRT buse, high occupancy vehicles, and/or hybrid and electric cars that allow individuals making more environmentally friendly choices to move through traffic.
Advance Science & Research
Affordable Healthcare for All
I'm a 15-year cancer survivor.
Our county is home to the best educational and research organizations in the nation.But when you have a President who does not believe in science and threatens to slash our research budget, we need to continue investing in our medical professionals.
As a 15-year cancer survivor who has benefited from the medical research conducted at places like the National Institutes of Health (also our county's largest employer), the National Cancer Institute and Walter Reed Medical Center, I want to ensure we continue to be the model for the nation when it comes to advancements in science and research.
This includes hosting a Montgomery County Cancer Moonshot (building on the work I did at the national level), that works with our research facilities and the Biden Cancer Initiative to implement smoking prevention programs and access to early detection technology. I also believe we must provide greater support for our non-profits that provide needed support and healthcare services for our residents.
We owe it to our residents and all those who suffer from life-threatening medical conditions.
I believe we must ensure high quality healthcare for all our children and families.
As a first-generation American and 15-year cancer survivor who served as the Associate Director of External Affairs at the U.S. Department of Health and Human Services under President Obama, I understand the importance of ensuring every person has a right to affordable, high-quality healthcare
As a former Wish recipient, I volunteer as a Wish Ambassador and Wish Grantor for the Make-A-Wish Foundation of the Mid-Atlantic, helping to enrich the lives of children with life-threatening medical conditions in Maryland, Virginia, Delaware and the District of Columbia. Through this work I have met many children in our county whose parents were undocumented. These families face an impossible decision - seek access to healthcare for their children and increase their risk of deportation or watch the health of their child deteriorate. I remember how difficult it was for my parents to take care of me when I was battling cancer. No parent should have to decide between taking care of family and being separated from them.
I deeply believe that everyone - and especially women, girls, and LGBTQ people - regardless of their zip code, identity or economic status should have safe, affordable access to the healthcare they need, including the full range of reproductive care, including family planning, contraceptive and abortion care.